ˇ@
ˇ@
<![if !vml]>

<![endif]>
The main reason for developing the intravascular ultrasound (IVUS) imaging is because the need to have a more informative and geometrical image of atherosclerotic plaque in diagnosing and treatment of coronary artery disease (CAD). Because of the development of noninvasive coronary angiography, the technique of bypass surgery and balloon angioplasty had been developed. But, because of the cost issue and the complication of the surgery and the high returning percentages of patients, new techniques had been developed actively for balloons and guidewires in balloon angioplasty. This also made the ability to treat complex case increased.
With increasing refine of the surgery techniques, the need to have detailed information of histology, morphology, pathology, and geometry of coronary artery disease becomes inevitable. In addition, without detailed understanding of the plaque in the coronary artery disease, the treatments of complete occlusions and recurrence are overwhelming difficult. This is because angiography can only display the lumen of blood vessel (luminology) and no additional information can be reveal from its image. Even though various methods have been developed to treat these cases, such as cutting, grinding, vacuuming, heating, ablating, and burning, there is no quantitative information for doctors to reference, and thus an unpredictable restenosis is happened with a considerable percentage.
With this extremely needs for the treatment for the coronary artery disease, Dr. Paul Yock introduced and invented the unique idea of ˇ§Intravascular Ultrasound Imaging system,ˇ¨ where its abbreviation is IVUS. This method had become the powerful tool to investigate and characterize coronary artery diseases and atherosclerotic plaques.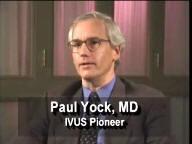 ˇ@
This is a video that Dr. Yock discussed
the impact of IVUS system to the clinical applications
(Original source

)
ˇ@
Go to next topicˇG

Brief History of IVUS

What you can see with IVUS imaging
ˇ@
ˇ@
ˇ@