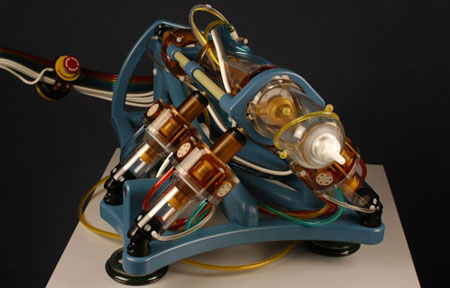 Click image to see the related page.
Introduction
With the advent of MRI, computed tomography, and other imaging and diagnostic tools, the medical world has begun to transition from experience based medical practices to evidence based medical practices. Rather than relying exclusively on the hard earned but still limited knowledge of medical veterans, the medical community has taken the first steps towards a diagnostic strategy based on standardized, quantifiable measures.
One of the most enticing advantages of an evidence based medicine system is the potential for automation. Although this natural progression towards automated medicine has emerged in many forms, one of the most interesting forms is the Field of image guided surgical robotics. Now that the imaging tools and techniques necessary for the automated detection of tumors and other irregularities are so close to clinical application, the next obvious step is the development of robotic systems and control techniques to facilitate that automated treatment of those irregularities
Although still in its infancy, the field of image guided surgical robotics has been propelled forward by a number of successful systems including, but not limited to, the MRBot developed by the urology robotics lab at Johns Hopkins University and the collaboratively developed Pathfinder stereotactically guided robot. These groups and others have developed the first generation of autonomous and semi-autonomous surgical robots that will change the way that medicine is practiced. This website will overview the recent advances in the field of image guided robotics made by both these groups and others.