Statistics!
Incidence Rate for Total Hip Replacement: approx 1 in 2,266 or 0.04% or 120,000 people in USA
Geography
The highest rates of hip replacements occur in the Midwest and Northwest, while the lowest rates occur in the South; where Utah has the highest rate of hip replacements, which is 4 times greater than Wyoming, which has the lowest. Other procedures such as hip fracture repair have very low variation from one.
Gender
Women account for sixty-two percent of all total hip replacement surgeries in the United States
Age
Two-thirds of all total hip replacements are performed on people older than 65 years of age; where the highest rates for hip replacements for men occur between 65 and 74 years of age for men, while for women they occur between 75 and 84 years of age for women.
Race
Caucasian had an incidence rate 4.2 per 1,000 while compared with African-American who had a rate of 1.7 per 1,000
Market!
Market definition
The hip replacment market belongs to a much larder market known as thhe orthopedics market. The orthopedics market covers not only hip but ,knee, shoulder, spine and trauma implant areas. The sub division of the the hip implants sector includes primary revision,cemented, hybrid, cementless, and endoprosthesis implants.
Market Analysis
In 2005, the orthopedics sector generated revenues of $8.8 billion, where the US accounts for 70.2% of the global revenues in orthopedics the market, Also,the compound annual growth rate of the orthopedics market in the US between 2001 and 2005 was 11.9%.
Market Breakdown
The Hip replacement sector accounted for the third largest portion of the Orthopedics market, making up 20% of US orthopedics market share, and produced $20.2 billion in revenues.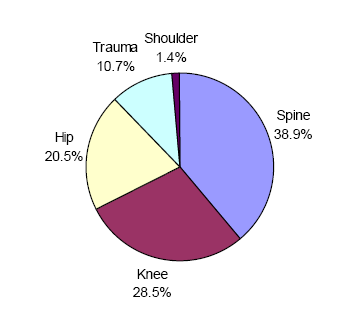 © 2007 Dhondup Pemba