Biosensors & Detection:
Biosensors are detection devices that recognize presence of a specific chemical or biological material in an environment. Biosensors quickly detected the targeted material (molecule) utilizing biological molecules, such as antibodies, nucleic acids, or enzymes. In recent years biosensors are used to detect bacteria. When bacteria or targeted material bind to surface of the sensor, the detection happens through an electronic signal or fluorescent indicator reaction or a colorimetric. Biosensors are highly sensitive and specific. They can measure small concentration of bacteria or toxin within a sample. Currently, pH and Glucose sensors are the most common biosensors used in the market [3,2].     
<![if !vml]>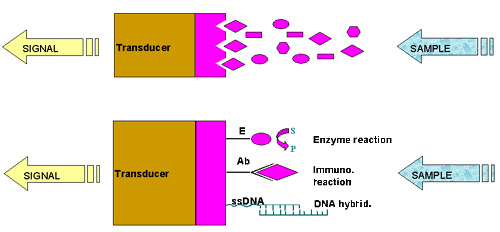 <![endif]>
Biosensors vs. Optical Biosensors
            Optical biosensors offer many advantages over biosensors. The major advantage of optical biosensors is that they do not have electrical interferences and therefore are biocompatible for in vivo and can detect changes which occur in the micro-environment that surrounds their surface. For optimal detection of a substance in biosensors, the sensing electronic partitions must be very close to the targeted biochemical assay. However, long optical fibers (in optical biosensors) enables the optoelectronic detection part be in a variable distance from the biochemical assay location. This characteristic is very useful for monitoring and testing down-well waters. Moreover, optical biosensors allow for sensing of multiple assays on a single master detection system [1,2,3].